The technical committee has finalized its program. ASQ CEO, Ann Jordan has agreed to be our Opening Keynote Speaker and Charles Dutil, President of Canam Quebec will be the Closing Keynote Speaker.
We have also chosen twelve speakers to provide you with knowledge and competencies to quantify risk and gain a better understanding on how to apply tools that help assess quantitative risks and turn them into opportunities so as to make your organizations more resilient.
We will also be offering a mix of English and French presentations with on-hand workshops with English and French animators.
A major innovation for this conference is the services of Interpreters who will provide live English interpretation of the presentations in French.
Click for more INFORMATION or to REGISTER.
Visit our
ASQ Canada Region
channel for speaker interviews.
ASQ Montreal - Ann Jordan Attends Leadership Meeting
By Jean-Pierre Amiel, ASQ Senior & CQA, ret.
Ann Jordan, ASQ CEO virtually attended last night's Montreal Section Leadership meeting (June 8, 2021) via Teams.
Yes, quite an honour for the Leadership Team. We also hosted Puneet Manchanda, the Canada Regional Director and Ruth Stanley, our Deputy RD as well as other directors. Ann wanted to meet the valiant team (70 years and counting) and present an overview of ASQ's key strategic initiatives. Mission accomplished. She explained how ASQ has been working on refocusing on its members and offer more value as well as recognizing that technology now offers more opportunities for improving this… a weakness identified 'late' by ASQ. They will be refocusing on improving that, educational support and quality expertise, as well as providing it in a multi-language environment through the support of the new technologies. More information from HQ will be available in the fall. We will be watching, Ann.
Chantale Simard, Montreal Section Chair sent her a follow-up message: I think I am speaking for the group here by letting you know that it was a pleasure for us as well. If we had had more time, probably everyone on the Leadership Team would have asked you questions and give you comments about the new key strategic initiatives to increase member value. I am glad that we had time for a few meaningful comments and ideas.

I truly believe in these initiatives involving benchmarking, technology, new and existing resources to enhance QBok content. The global provider network, ASQConnEx is also a great idea. Being open to modern ways, to the world, to younger generations, to diversity and other languages and proving it concretely by starting this virtual road show with Montreal, makes me believe that ASQ will achieve the long-term goal of improving member value.
We will look more closely at the presentation and start discussions with our members and other quality professionals in our community about these key strategic initiatives.
PS: Ann Jordan has agreed to be the opening key-note speaker of the 2021 ASQ Canada & Greenland Region: National Bilingual Quality Conference hosted by the Montreal Section on the 4th and 5th of October.
ASQ Montreal Section - Call for Officer Nominations
By Sam Weissfelner, ASQ Senior Member, ASQ CSQE, CQA, Nominating Chair, Arrangements Chair, Program Committee Member (le texte Français suit)
Although it may seem early, planning for the slate of next year's Leadership Team requires time. Four of the positions on the team are elected officers, i.e. Section Chair, Section Vice-Chair, Section Secretary, and Section Treasurer. None of these positions need to be vacated in the next year, but do remain to be confirmed and other changes may be made within the rest of the Section Leadership Team members currently serving as well.
Ever since I've been a member of the Montreal Section Leadership Team (well over 25 years now), the election process has involved the Nominating Committee submitting a slate of officers and the slate being approved at the General Assembly. I've yet to see any formal alternate nominations for Section Officer positions being made, and actual voting elections take place. Should you wish to submit alternate nominations for Section officer positions, please submit a petition of at least 10 members of the Section to Nominations. Please note that, in order to hold a Section Officer position, you must be a Full, Senior or Fellow ASQ Member in good standing affiliated with our Section. We will be repeating this call for nominations in the next edition of our Newsletter in September.
The proposed Leadership Team slate will be published in the October edition of the Newsletter. Finally, the actual approval of the new Leadership Team is planned to occur at the Annual General Assembly which will be held on October 27th, 2021. Go to for a complete listing of current ASQ Montreal Section positions. For more information on these positions, login to the ASQ site. If you have any interest in participating on the upcoming Section Leadership Team or have any questions on the roles themselves, please contact the Section Chair Chantale Simard or myself. Thank you to all our current members, and welcome to any of our new members.
May you all have a GREAT and COVID-free SAFE summer!
Mitchell Daudier Remembered
Mitchell Daudier Award to a student in the Food Science and Agricultural Chemistry Dept, McGill University
By Jean-Pierre Amiel, ASQ Senior, CQA Retired
Once upon a time in 2000, I crossed paths with a young woman, full of energy and dreams for changing our world…. Mitchell Daudier came onboard the Montreal Section Executive as our Environmental Chair… yes, a real outlook for the future back then. She became Vice-Chair in 2004 and eventually Chair in 2006 and 2007. She then took on various roles as well as planning the big do of 2010 celebrating our Section's 60th Birthday!! Throughout those years Mitchell gave so much of her time, energy and professionalism to our Section, and so very humbly. I learned that she also did this outside of 'our' environment within her Haitian community. I last saw her at a section event in March 2017 in which she presented a thought provoking insight into Human Factors in Incident Investigations using TapRoot (see our Newsletter and that event's Review). It turned out to be her last few months with us as to our chagrin, Mitchell passed away after an extended period of illness. Mitchell's dedication and commitment to volunteering her services to professionals in the Environmental and Quality fields was exemplary. She was one of those special individuals who infused Quality and Passion into everything, and everyone she worked with.
In 2019, the Section Leadership Team voted to recognize this bubble of humanity with an Award at McGill University, her alma mater. Dr. Inteaz Alli (retired Professor and Department Chair of McGill's Food Science and Agricultural Chemistry Dept) and Sam Weissfellner, both Montreal Section Leaders, contacted and worked with the university to create this award. Today, I am proud to say that this has finally come to fruition.
The "Mitchell Daudier Award to a student in the Food Science and Agricultural Chemistry Dept, McGill University" has been created to recognize Mitchell's invaluable contributions to the Section and her spirit and contributions to her peers in the Environmental/Quality field. For this one-time award of $500, in her name, we have asked the University that it be awarded to a deserving student presently registered in the Department of Food Science and Agricultural Chemistry whose traits and adjectives used to describe Mitchell in the past serve as selection criteria: kind, supportive, good-natured, charismatic, capable, imaginative, confident, trustworthy, leader, passionate and courageous.
We look forward to meeting Mitchell's legacy student and hopefully have that individual present us a topic at a future ASQ Montreal event.
Congratulations to the Montreal Section From The PEP Committee!
On behalf of the Performance Excellence Program (PEP) committee, we want to thank you for all the hard work your leadership team provided to your Section members this past year, as well as ASQ. 
We are pleased to announce that the Montreal Section Committee has received the Gold award recognition for 2020. Measures included in the 2020 award program were:
Contributions to ASQ thought leadership, as measured by myASQ content postings;
Member Engagement and Experience, as measured by myASQ activity and member increases;
Fiduciary responsibility, as measured by adherence to budget;
Achievement of business plan objectives, as measured by self-reported progress on business goals and targets.
Attached you will find artwork that can be used within your Section to honor and promote your member unit's PEP success in 2020.
Again, congratulations to everyone at the Montreal Section Committee for your achievements. We are proud of your service to ASQ and continue to look forward to what is ahead from your members.
With great thanks,
The PEP Committee
QUALITY PROGRESS - A Beginner's Guide to Virtual Events (2021-04)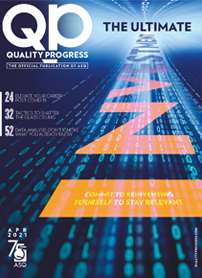 Michael Bournazian, Eng., Newsletter Editor, ASQ Senior Member, CSSGB
If you are a member of ASQ, then certainly you receive the monthly ASQ magazine Quality Progress. And if you read closely the April 2021 issue, then surely you realized that a few of our ASQ Montreal committee members were part of a group of four people who authored the article entitled "A Beginner's Guide to Virtual Events".
I am very proud of both J.P. Amiel and Raymond Dyer, who have both worked very hard to make sure that our current situation of "Virtual Webinar Events only" is well executed every last Wednesday of the month. As well, they have shown an openness to ideas and a regular drive to continuously improve the process of doing these kinds of events, and making them fruitful for everyone attending.
If you have not already read the article, then I encourage you to Click Here and start reading (You must login to your ASQ account first to access the full article).
Congratulations as well to the other two co-authors, Ruth Stanley and Michel Guenette. Great job everyone!  To Access the Full Document: Become a professional member style="text-decoration: underline; color: #800080;" and unlock access to ASQ's full content library.
Eric Stern Award 2020 - Winner
A tribute to Eric Stern, well remembered ASQ Montreal Section Leader and Concordia Alumni
By Dr. Farnoosh Naderkhani, ASQ Member, Assistant Professor, Concordia University,
Student Outreach Committee Chair
Without a doubt, the COVID-19 pandemic has abruptly changed the world as we knew it, at the beginning of the 2nd decade of the 21st century. On the bright side, we all have learned to continue learning, working, and socializing in a virtual environment. I wish all students a healthy, productive and prosperous 2021.
It is my great pleasure to announce that Mr. Kamyar Azar is the recipient of the ASQ Montreal Section's 2020 Eric Stern Award. Mr. Azar is currently a full time Masters student, studying Quality System Engineering at the Concordia Institute for Information System Engineering (CIISE), Concordia University.
In summary, the intellectual merit of Kamyar's work is in the development of advanced Machine Learning-based models (ML), coupled with Quality Control techniques to perform high accuracy predictions in the Healthcare industry. Nowadays, significant technological advancements have resulted in the availability of large multi-modal, complex and high-dimensional datasets within the Healthcare domain.
Due to the complexity of such datasets, using dimension reduction techniques is more important than ever before to increase the training speed and to provide better interpretations. In this regard, a Principal Component Analysis (PCA) control chart, a well-known quality control technique for data dimensionality reduction, is applied to analyze the Breast Cancer Wisconsin (Diagnostic) imaging dataset. Finally, multiple classification models are "trained" to predict a tumor's malignancy. In addition to significant theoretical and technological implications of such projects, like Healthcare being a key driver of Canada's economy, advancements in this line of research can have a significant impact on our Healthcare industry.
Congratulations Kamyar for your work. Great job.