Wisdom from our Wisest — Rosaire Ratelle
By Eric Hosking, Section Treasurer, Membership Chair, ASQ CQE, CSSBB, CQA and Samira Kazemi, Program Committee Member
Texte en français ICI
Last month in this column we featured Ruth Stanley, ASQ Canada's former Regional Director. This month we are featuring one of our very longest serving members Rosaire Ratelle, B. Eng., ASQ CQE. April 1st saw Rosaire celebrate 46 years with the ASQ. Like Marcel Charbonneau featured two months ago, Rosaire was instrumental in the development and evolution of the Quality institutions in Quebec.

Rosaire has worked and consulted in various industries and companies. He had the opportunity to watch, act and share his thoughts on the evolution of various quality techniques at work and in various articles he authored. He was also a player in the Quebec quality movement.
You can read his story here.
---
If you enjoyed this article, send your comments to the Membership Chair.We will share them.
(2022-05-20)
Student Outreach
AI innovations revolutionizing future of healthcare!
By Dr. Farnoosh Naderkhani, ASQ Member, Assistant Professor @ Concordia, Student Outreach Committee Chair
Artificial Intelligence (AI) innovations can change patients' lives by improving diagnosis/treatment methods and assisting clinicians in making informed decisions. In this presentation, we introduced the general applications of AI in healthcare. More specifically, how AI models can assist radiologists in analyzing medical images for a more accurate and faster diagnosis/prognosis of diseases. Nastaran Enshaei was invited to speak about her work with AI at the ASQ Montreal Student Outreach series this May 19th, 2022.

About the speaker: Nastaran Enshaei is a PhD candidate at Concordia Institute for Information System Engineering (CIISE). She holds a Master degree in Quality System Engineering from Concordia University and has been actively involved in performing research in the healthcare domain. In particular, she is working on deep learning-based solutions for analyzing medical images. Nastaran's research contributions have been published in International Journals and Conferences of high caliber in engineering and healthcare venues including but not limited to Signal Processing magazine and Nature Scientific Reports.
(2022-05-20)
Wisdom from our Wisest — Ruth Stanley
By Eric Hosking, Section Treasurer, Membership Chair, ASQ CQE, CSSBB, CQA and Samira Kazemi, Program Committee Member
Texte en français ICI
Last month, in this column we featured Marcel Charbonneau, a very long time member of the ASQ. Some of our members are not necessarily long time members of the ASQ, but they are long time practitioners of Quality. They also come with a myriad of talents that have helped them have very successful careers inside and outside the Quality domain. We had the pleasure of interviewing Ruth Stanley, former Regional Director for the ASQ Canada and Greenland region. She described her career in Quality and her career as a leader. This is what we learned.
RUTH STANLEY – PRESIDENT, BOANN CONSULTING
Ruth Stanley has 30 plus years in Quality working as a public servant in a number of branches of the Canadian Federal Government. While there she worked with ISO standards: 9001 for quality systems; 14000 for environmental standards; 17025 for laboratory information systems and 31000 for risk management.
Ruth became a member of ASQ in 2014 in the Ottawa Section. In 2017 she took the lead on organizing the first ASQ Canadian National Quality Conference which was hosted by the Ottawa Section. Following that she served as the ASQ Regional Director for Canada Greenland Region in 2019 and 2020, then stepping down to be Deputy Regional Director in 2021. From those positions, she was deeply involved in both the 2020 and 2021 ASQ Canadian National Quality Conferences hosted by Toronto Section and Montreal Section respectively. Now retired from the Federal Government, she is far from retirement. She is an author, presenter, blogger and now founder of Boann Consulting.
Samira had a number of questions for Ruth and you can read the article here.
---
If you enjoyed this article, send your comments to the Membership Chair.We will share them.
(2022-04-17)
Student Outreach — Sustainability in Supply Chain
By Dr. Farnoosh Naderkhani, ASQ Member, Assistant Professor @ Concordia, Student Outreach Committee Chair
In today's competitive business environment, to stay in business and keep up with competitors, it is of significant importance for a supply chain network to operate at its fullest potential. Increased demand for consumer products, however, has resulted in irreversible negative impacts on the environment. This coupled with increased global pollution rate over recent decades has resulted in an urgent quest to design and develop green and sustainable supply chain network. Generally speaking, sustainability in supply chain management focuses on orchestration and continuous improvement of planning and execution of processes on strategic, tactical and operational levels.
As a researcher working on sustainability in supply chain network and as part of the vision to bring industry into classroom, we organized an invited distinguished seminar delivered by Veronica B. Marquez, Social Media Chair at ASQ Montreal. Veronica delivered a unique and an insightful presentation focused on green and sustainable supply chain network. The talk was devoted to strategic vision for advancement of lean and green supply chain networks and how the lean concepts and quality tools can be applied to achieve a sustainable supply chain network.
(2022-04-14)
Prix Denis Pronovost (Award)
Par Jean-Pierre Amiel, ASQ Senior, CQA Retraité, Secrétaire, Audits, Sites web (English text follows)
The Montreal Section of the ASQ has established a $500 award in honor of Denis Pronovost, who passed away in June 2015. Through his outstanding contribution to the association, his leadership and his involvement, he greatly participated in the promotion of quality in French in Quebec.
This award will be presented to a student in the Certificat en gestion et assurance de la qualité (Management and Quality Assurance Certificate) of the École de technologie supérieure, a multidisciplinary program that provides training or development in management and quality assurance. It will allow a candidate to present tangible references such as:
 Consistency of academic performance;
Presentation of a subject related to quality management (e.g., an internship related to quality techniques and tools, a research project, a process improvement case study, or other);
His/her participation, attitude, team spirit and involvement;
Respect for the French language in his/her texts and oral presentations.
Denis had a career of more than thirty years of work experience mainly in teaching and consulting in the field of management, quality assurance and audits. In 1990, with Pierre Caillibot, he founded Academia Qualitas in Quebec, where they developed courses and trained quality professionals in the manufacturing, service and laboratory sectors. Denis was a member of the Canadian Advisory Committee to ISO/TC 176, particularly active in the Terminology Working Group, the Interpretations Working Group and the joint CAC/ISO/TC 176/CAC/ISO TC 207 Working Group on Auditing and the Future of the ISO 19011 Audit Standard.
He was also a lead auditor of quality management systems (QMS) certified by the Registrar Accreditation Board (RAB) and a senior member of the American Society for Quality (ASQ). Denis was an active member and Chair of the ASQ Montreal Francophone Section from 2012-14. Denis has been a speaker and instructor in North America, Central America, Europe and Asia. On more than five occasions, he came to the Montreal Section to present the evolution of the ISO 9000 and ISO 14000 standards. In 2000, he authored Internal Quality Auditing, a guide to conducting effective internal audits, published by ASQ.
We look forward to introducing you to the winner of this award at an upcoming section event.
(2022-04-17)
Wisdom from our Wisest — Marcel Charbonneau
By Eric Hosking, Section Treasurer, Membership Chair, CQA, CQE, CSSBB
Texte en français
ICI
Did you know that we have a number of ASQ Montreal Section members who have been with the section for more than 40 years. Four decades! What do you think they can tell us about the evolution of Quality in Quebec? What do you think they can tell us about being successful in the quality profession? What was their quality path and why have they chosen to be with the ASQ for so long? We asked
Marcel Charbonneau
, who joined the ASQ 49 years ago, and he provided this
fascinating story
.
ASQ Montreal Achievement Awards
By Eric Hosking, Section Treasurer, Membership Chair, CQA, CQE, CSSBB
In January of last year we were pleased to acknowledge two of our leadership teams members, Jean-Pierre Amiel and Raymond Dyer for their extraordinary contributions in 2020. As much as we wanted to acknowledge the achievements of the year just gone by, we could not present the ASQ achievement award trophies because COVID restrictions prevented us from getting together for a ceremony. So this was done in a virtual format, preceding our regular monthly Webinar event. In that virtual world we could only show an image of the award trophy each of them had earned.
We also had to admit that we did not even have the trophies. ASQ headquarters staff had no access to the storage area that the trophies were kept in. They were restricted to working from home. The trophies did not become available until late summer in 2021.
As COVID restrictions eased through the late summer and fall, we planned an event for late November where we would finally be able to do justice and, in a second presentation of the award, actually hand over the trophies. This too was not to be: Omicron reared its ugly head and other personal emergencies arose that prevented our awardees from attending the event.
I ultimately decided that the awards would be put in the rightful hands, COVID and other events notwithstanding. So I made home deliveries as you can see in the photos.
The award to Ray is in recognition of all the things he did in 2020 to keep us going. In particular, the things he did to keep our monthly speaker program going with very severe COVID restrictions in place, while we were driving to make our presence fully bilingual. You all should recognize Ray as the voice and face of our monthly webinar series. He also collaborated with other ASQ Canada Sections to form a Webex training group to support ASQ Canada's virtual needs, and he contributed to the Canada Conference hosted by Toronto in 2020. This is outside other contributions in his role as Section Secretary and as member of our Student Outreach Committee.
In 2020, J.P. took on the challenge of getting us functioning in not one, but two myASQ sites, making us the only ASQ section to have sites in two languages. He also updated our historical website to give it a more modern look. He joined the Webex training group, he contributed to the Canada Conference hosted by Toronto and he was the master control behind our webinars as we converted to the COVID imposed virtual world. This does not come close to describing all the other things he did as well.

Congratulations again to Ray and JP.
These are very well deserved awards.
Lean start-up of a centre for pediatric emergencies - Follow-up
By Jean-Pierre Amiel, ASQ Senior, CQA Retired
We have learned that recently the UP (Unité pédiatrique) centre received visitors who were very interested in the approach of a health system centred on patient experience and access. Not the least of which was the Minister of Health Christian Dubé accompanied by Minister Lionel Carmant, Dr. Lucie Opatrny and Martin Forgues of the Ministry of Health and Social Services, and the management team of the CISSS Montérégie Centre Richard Deschamps, Lyne Marquis, and Dr. Inthysone Rajvong.
We really appreciated Dr. Sasha Dubrovsky's presentation on the Lean start-up of a centre for pediatric emergencies last November 24 and that we said he should meet the Health Minister… well he did. See: LinkedIn.
ASQ Member Leader Excellence Awards
By Jean-Pierre Amiel, ASQ Senior, CQA Retired
At the General Assembly, Chantale Simard, ASQ Montreal Section Chair presented an ASQ Member Leader Excellence Award to Veronica Marquez, cssbb.
Over the past years Veronica has done some outstanding contributions as Social Media chair and to the evolution of the Student Outreach committee, the Program committee, to the Canada Quality Conference and to the ASQ Region Webinars, just to mention a few examples!
The whole team applauded Veronica for all her hard work. CONGRATULATIONS!
Also on behalf of Puneet Manchada, our Regional Director who was absent, Chantale presented the Montreal Section an ASQ Member Leader Excellence Award for their realization of the 2021 ASQ Canada Conference.
By Jean-Pierre Amiel, ASQ Senior, CQA Retired
If you think that we can't reach out to you, you're probably right.
Our event surveys have shown that although our members get to learn of our upcoming events mostly through our Newsletter, we can only send it to you if we have your email address. Many members, probably because they are tired of receiving unwanted emails, do not share their address with ASQ.
If that is your case but you want the Newsletter delivered to your electronic device, Login to ASQ.org, click My Account and set the appropriate parameters (Address Information, Contact Information). To reduce noise from ASQ, click on Opt In/Opt Out then EDIT and select the options in the three categories. To receive our Newsletter, in Member Communication, check-off Section Communication.
Don't forget to click Save and then surf or Logout.
IT'S OVER!! .....For this year.
Speaker interviews on the
ASQ région Canada
YouTube channel.
ASQ Montreal - Ann Jordan Attends Leadership Meeting
By Jean-Pierre Amiel, ASQ Senior & CQA, ret.
Ann Jordan, ASQ CEO virtually attended last night's Montreal Section Leadership meeting (June 8, 2021) via Teams.
Yes, quite an honour for the Leadership Team. We also hosted Puneet Manchanda, the Canada Regional Director and Ruth Stanley, our Deputy RD as well as other directors. Ann wanted to meet the valiant team (70 years and counting) and present an overview of ASQ's key strategic initiatives. Mission accomplished. She explained how ASQ has been working on refocusing on its members and offer more value as well as recognizing that technology now offers more opportunities for improving this… a weakness identified 'late' by ASQ. They will be refocusing on improving that, educational support and quality expertise, as well as providing it in a multi-language environment through the support of the new technologies. More information from HQ will be available in the fall. We will be watching, Ann.
Chantale Simard, Montreal Section Chair sent her a follow-up message: I think I am speaking for the group here by letting you know that it was a pleasure for us as well. If we had had more time, probably everyone on the Leadership Team would have asked you questions and give you comments about the new key strategic initiatives to increase member value. I am glad that we had time for a few meaningful comments and ideas.

I truly believe in these initiatives involving benchmarking, technology, new and existing resources to enhance QBok content. The global provider network, ASQConnEx is also a great idea. Being open to modern ways, to the world, to younger generations, to diversity and other languages and proving it concretely by starting this virtual road show with Montreal, makes me believe that ASQ will achieve the long-term goal of improving member value.
We will look more closely at the presentation and start discussions with our members and other quality professionals in our community about these key strategic initiatives.
PS: Ann Jordan has agreed to be the opening key-note speaker of the 2021 ASQ Canada & Greenland Region: National Bilingual Quality Conference hosted by the Montreal Section on the 4th and 5th of October.
ASQ Montreal Section - Call for Officer Nominations
By Sam Weissfelner, ASQ Senior Member, ASQ CSQE, CQA, Nominating Chair, Arrangements Chair, Program Committee Member (le texte Français suit)
Although it may seem early, planning for the slate of next year's Leadership Team requires time. Four of the positions on the team are elected officers, i.e. Section Chair, Section Vice-Chair, Section Secretary, and Section Treasurer. None of these positions need to be vacated in the next year, but do remain to be confirmed and other changes may be made within the rest of the Section Leadership Team members currently serving as well.
Ever since I've been a member of the Montreal Section Leadership Team (well over 25 years now), the election process has involved the Nominating Committee submitting a slate of officers and the slate being approved at the General Assembly. I've yet to see any formal alternate nominations for Section Officer positions being made, and actual voting elections take place. Should you wish to submit alternate nominations for Section officer positions, please submit a petition of at least 10 members of the Section to Nominations. Please note that, in order to hold a Section Officer position, you must be a Full, Senior or Fellow ASQ Member in good standing affiliated with our Section. We will be repeating this call for nominations in the next edition of our Newsletter in September.
The proposed Leadership Team slate will be published in the October edition of the Newsletter. Finally, the actual approval of the new Leadership Team is planned to occur at the Annual General Assembly which will be held on October 27th, 2021. Go to for a complete listing of current ASQ Montreal Section positions. For more information on these positions, login to the ASQ site. If you have any interest in participating on the upcoming Section Leadership Team or have any questions on the roles themselves, please contact the Section Chair Chantale Simard or myself. Thank you to all our current members, and welcome to any of our new members.
May you all have a GREAT and COVID-free SAFE summer!
Mitchell Daudier Remembered
Mitchell Daudier Award to a student in the Food Science and Agricultural Chemistry Dept, McGill University
By Jean-Pierre Amiel, ASQ Senior, CQA Retired
Once upon a time in 2000, I crossed paths with a young woman, full of energy and dreams for changing our world…. Mitchell Daudier came onboard the Montreal Section Executive as our Environmental Chair… yes, a real outlook for the future back then. She became Vice-Chair in 2004 and eventually Chair in 2006 and 2007. She then took on various roles as well as planning the big do of 2010 celebrating our Section's 60th Birthday!! Throughout those years Mitchell gave so much of her time, energy and professionalism to our Section, and so very humbly. I learned that she also did this outside of 'our' environment within her Haitian community. I last saw her at a section event in March 2017 in which she presented a thought provoking insight into Human Factors in Incident Investigations using TapRoot (see our Newsletter and that event's Review). It turned out to be her last few months with us as to our chagrin, Mitchell passed away after an extended period of illness. Mitchell's dedication and commitment to volunteering her services to professionals in the Environmental and Quality fields was exemplary. She was one of those special individuals who infused Quality and Passion into everything, and everyone she worked with.
In 2019, the Section Leadership Team voted to recognize this bubble of humanity with an Award at McGill University, her alma mater. Dr. Inteaz Alli (retired Professor and Department Chair of McGill's Food Science and Agricultural Chemistry Dept) and Sam Weissfellner, both Montreal Section Leaders, contacted and worked with the university to create this award. Today, I am proud to say that this has finally come to fruition.
The "Mitchell Daudier Award to a student in the Food Science and Agricultural Chemistry Dept, McGill University" has been created to recognize Mitchell's invaluable contributions to the Section and her spirit and contributions to her peers in the Environmental/Quality field. For this one-time award of $500, in her name, we have asked the University that it be awarded to a deserving student presently registered in the Department of Food Science and Agricultural Chemistry whose traits and adjectives used to describe Mitchell in the past serve as selection criteria: kind, supportive, good-natured, charismatic, capable, imaginative, confident, trustworthy, leader, passionate and courageous.
We look forward to meeting Mitchell's legacy student and hopefully have that individual present us a topic at a future ASQ Montreal event.
Congratulations to the Montreal Section From The PEP Committee!
On behalf of the Performance Excellence Program (PEP) committee, we want to thank you for all the hard work your leadership team provided to your Section members this past year, as well as ASQ.
We are pleased to announce that the Montreal Section Committee has received the Gold award recognition for 2020. Measures included in the 2020 award program were:
Contributions to ASQ thought leadership, as measured by myASQ content postings;
Member Engagement and Experience, as measured by myASQ activity and member increases;
Fiduciary responsibility, as measured by adherence to budget;
Achievement of business plan objectives, as measured by self-reported progress on business goals and targets.
Attached you will find artwork that can be used within your Section to honor and promote your member unit's PEP success in 2020.
Again, congratulations to everyone at the Montreal Section Committee for your achievements. We are proud of your service to ASQ and continue to look forward to what is ahead from your members.
With great thanks,
The PEP Committee
QUALITY PROGRESS - A Beginner's Guide to Virtual Events (2021-04)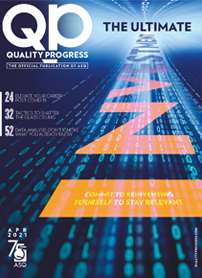 Michael Bournazian, Eng., Newsletter Editor, ASQ Senior Member, CSSGB
If you are a member of ASQ, then certainly you receive the monthly ASQ magazine Quality Progress. And if you read closely the April 2021 issue, then surely you realized that a few of our ASQ Montreal committee members were part of a group of four people who authored the article entitled "A Beginner's Guide to Virtual Events".
I am very proud of both J.P. Amiel and Raymond Dyer, who have both worked very hard to make sure that our current situation of "Virtual Webinar Events only" is well executed every last Wednesday of the month. As well, they have shown an openness to ideas and a regular drive to continuously improve the process of doing these kinds of events, and making them fruitful for everyone attending.
If you have not already read the article, then I encourage you to Click Here and start reading (You must login to your ASQ account first to access the full article).
Congratulations as well to the other two co-authors, Ruth Stanley and Michel Guenette.
Great job everyone!
Eric Stern Award 2020 - Winner
A tribute to Eric Stern, well remembered ASQ Montreal Section Leader and Concordia Alumni
By Dr. Farnoosh Naderkhani, ASQ Member, Assistant Professor, Concordia University,
Student Outreach Committee Chair
Without a doubt, the COVID-19 pandemic has abruptly changed the world as we knew it, at the beginning of the 2nd decade of the 21st century. On the bright side, we all have learned to continue learning, working, and socializing in a virtual environment. I wish all students a healthy, productive and prosperous 2021.
It is my great pleasure to announce that Mr. Kamyar Azar is the recipient of the ASQ Montreal Section's 2020 Eric Stern Award. Mr. Azar is currently a full time Masters student, studying Quality System Engineering at the Concordia Institute for Information System Engineering (CIISE), Concordia University.
In summary, the intellectual merit of Kamyar's work is in the development of advanced Machine Learning-based models (ML), coupled with Quality Control techniques to perform high accuracy predictions in the Healthcare industry. Nowadays, significant technological advancements have resulted in the availability of large multi-modal, complex and high-dimensional datasets within the Healthcare domain.
Due to the complexity of such datasets, using dimension reduction techniques is more important than ever before to increase the training speed and to provide better interpretations. In this regard, a Principal Component Analysis (PCA) control chart, a well-known quality control technique for data dimensionality reduction, is applied to analyze the Breast Cancer Wisconsin (Diagnostic) imaging dataset. Finally, multiple classification models are "trained" to predict a tumor's malignancy. In addition to significant theoretical and technological implications of such projects, like Healthcare being a key driver of Canada's economy, advancements in this line of research can have a significant impact on our Healthcare industry.
Congratulations Kamyar for your work. Great job.